Raffi and Ariella Leicht are moving to the Pioneer Valley in the summer of 2016! They are excited to have the opportunity to learn with students and be a meaningful part of their lives on campus!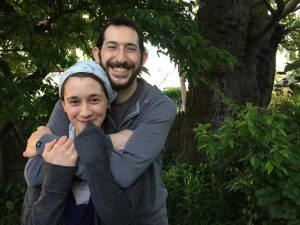 Raffi Leicht grew up in New York and Los Angeles. After studying in Israel at Yeshivat Reishit for two years, he began his academic career at Yeshiva University where he majored in Judaic Studies. He completed his degree at the City University of New York with a concentration in Neuropsychology through the CUNY Baccalaureate program. After graduating, he returned to Yeshiva University as the assistant to renowned scholar and teacher Rabbi Moshe Weinberger. Before joining OU-JLIC Raffi was working as a Sales Trader at the New York Stock Exchange.
Ariella was born and raised in Great Neck, NY. After spending a year and a half in Israel Ariella made her way to Stern College where she majored in Biology and History. With a Masters degree in Medieval Jewish History from Bernard Revel Graduate School of Jewish Studies, Ariella has worked as an educator and assistant curator at different Jewish museums in New York City and in Israel. Most recently as the assistant curator at the Herbert and Eileen bernard Museum of Judaica at Temple Emanu-El on the Upper East Side of Manhattan and at the U. Nahon Museum of Italian Jewish Art in Jerusalem, Israel.